Bank Account Direct Deposit Supporting Documents: Checks vs. Bank Authorization vs. Bank Statements
Are you tired of your accountant telling you that your payee's payroll forms are wrong or missing information?    Or, worse, that the bank support and the payee's paperwork do not match? Well, as "the accountant" I know your frustration.  Why do banks have to do everything the same but still manage to be different? In my opinion, there should just be one standardized form!  With this kind of thinking, I could be head of the FDIC in no time!  Am I right?
Well, I'll tackle that letter another day, but today, I'm going to walk you through what types of bank support I accept when processing new hire payroll forms for my fitness concepts.  This isn't unique to fitness studios and can be applied to all businesses who pay via direct deposit. Here at The Fitness CPA, we have processed thousands of payee's payroll forms so we know what is needed.  So, we get it because we've been the naggers.
First, a quick reminder about why any of this is needed at all.  Having the correct direct deposit information is important because it protects the business and the employee from having their payment go into the wrong account. You want to pay your employee, and they want to be paid – on time.  Having the correct information prevents lost payments, keeps employees happy and from bothering you about missing direct deposits.
What Bank Information Needs to be Verified for Direct Deposit?
Remember the old adage "measure twice, cut once?"  That's exactly what verifying direct deposit authorization forms with bank support is doing.  Ensuring that your business is making payments to the correct account for your payee.  You'd think that your payee would triple check this information; however, most do not.  And now you do.  And your accountant does!  You and your accountant need to verify the below information on the direct deposit authorization form against the bank support provided by your payee:
Payee's (or business) name
Payee's (or business) address
Routing number
Account number
What are Examples of Bank Support That Are Approved for Direct Deposit?
If information is not verified by you and your accountant, any payments made via direct deposit to an incorrect account will either (a) not be deposited in your payee's bank account, (b) be delayed in getting to your payee's bank account or (c) go to the wrong account, i.e. not your payee's. Again, all three of these situations are 100% avoidable with verifying direct deposit authorization forms with provided bank support. Simple enough, right? We agree! Let's now look at what bank support is exactly.
Bank support can be any of the below items ((keep reading to learn a bit more about each a little later):
Personal check or a counter check
Bank provided direct deposit form (accessible online or in a local branch)
Bank account information from monthly statements
Cards with account information on them provided by the bank
Contacting the bank for any supporting documents they are able to provide
Example of Bank Support #1, The Personal Check: The Best and Easiest Support to Confirm Ownership of a Bank Account
Some banks provide checkbooks upon account opening; however, sometimes, people have to order a checkbook. Either way we are talking about that old-fashion checkbook. However, if you are anything like me and haven't seen your checkbook in years because I send all checks via my online bank bill pay service, I'm in a bind when I need a check for direct deposit authorization! Fortunately, I've learned firsthand that bank's recognize this is common and they are happy to help out a customer in need.
All banks and credit unions can print a check for the account holder in a local branch.  This is what is known as a "Counter Check".   A counter check is a check that is printed right at the bank with the correct account information.  It works just like a real check and doesn't require an entire checkbook to be ordered.  There may be a small fee of $1-$2 per counter check and you receive it immediately when requested.
The most common thing we see with voided checks is a payee writing their currently open checking account on the direct deposit authorization and then providing a voided check from a closed bank account or vice versa. It's crazy what you'll see when you really start reviewing payee direct deposit forms.
Example of Bank Support #2, Bank Provided Direct Deposit Form
These are forms designed by banks and credit unions to provide the payee's name, address, and account details. Direct deposit authorization forms are available online, usually through your payee's online account access, or from a local bank branch.
The main issue we sometimes see with this option is that bank provided direct deposit form can be handwritten Did the payee or bank teller fill out the form?  We can't tell who filled it out. With handwritten bank provided direct deposit forms, it is possible the routing or account number could be wrong.  We've seen everything that could be wrong be wrong, from numbers being transposed to just left off (hey, we get it 0000 looks the same as 00000). 
The key here, just like with the any bank support, is that as the employer, you and your accountant must confirm that the information on the bank provided direct deposit authorization form matches the payroll documents being sent to your accountant. If what is on the direct deposit authorization form matches the bank provided direct deposit form it is safe to use this information regardless of it being computer generated or handwritten.
Here are a few examples from some of the most common major banks: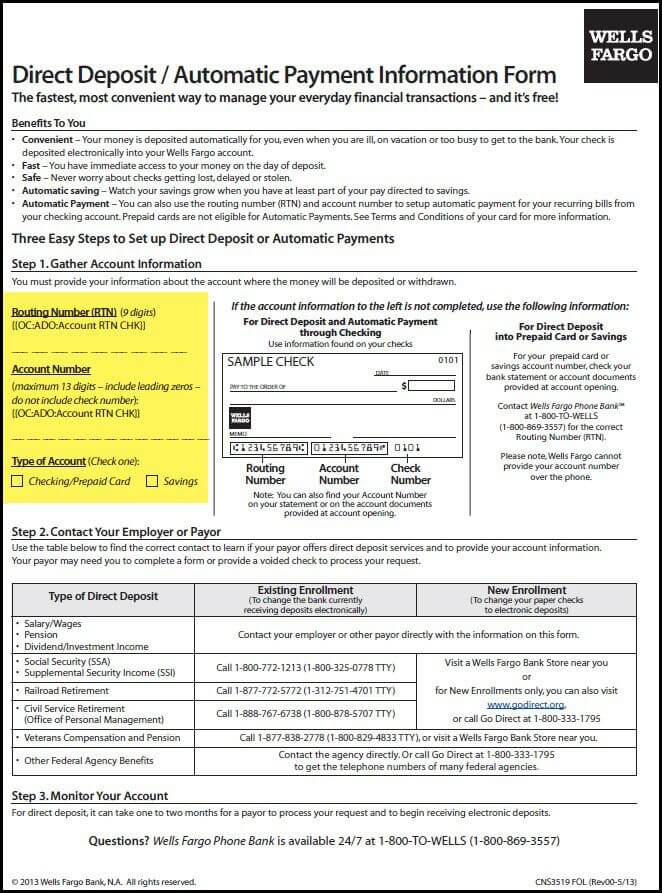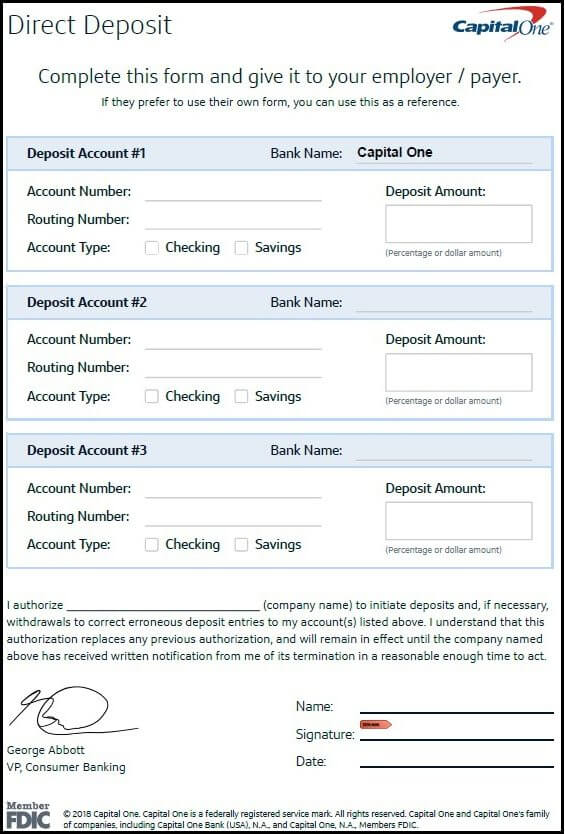 Bank provided direct deposit forms are relatively straight forward when looking for all the necessary payee information (such as payee's name, address, account and routing number); however, sometimes, *cough cough Wells Fargo*, the bank provided direct deposit form can bury the payee's information within the bank's legalese. If you ever have questions as to whether a form is acceptable or not, reach out to your accountant. Here at The Fitness CPA, we see hundreds of bank provided direct deposit forms each year from big banks to small credit unions. I think we can almost say "we've seen it all" and we want to help. At the Fitness CPA, we want to make your life easier.
Example of Bank Support #3, Other Forms of Direct Deposit Support: Bank Statements and Bank Provided
If the first two options aren't available for your payee, there are a few other options:
The payee can provide a picture of the routing and account number from an online log-in and then provide a copy of a recent bank statement that shows their name, address, and the account number.
Some banks or credit unions provide account details on paper cards. It's kind of like a bank business card, but with the payee's routing and account number on the card. Sometime this is handwritten by the banker and sometimes it is printed off from a computer. These, too, would work as bank support. Note, these are NOT debit or credit cards, but cards that just have the account and routing number.
Now that we've covered what acceptable bank support is, let's quickly touch base on what is not acceptable bank support:
Bank statements with the account number, and no routing number
Bank statements with a partial account number.
Hand written support on a piece of paper (i.e. not on a bank provided direct deposit form or paper card from a bank or credit union, think just like a piece of loose-leaf paper that a payee wrote the same information on – yes, we've seen this too)
No support provided at all (this is what we most commonly see)
You've Made it to the End! Time to Recap:
Remember, bank support verifies the routing and account number listed on the direct deposit authorization form. Take the time to verify this information. Doing this will ensure your payees receive their money on pay day, without any issue or delay. And as much as your payees love what they do, they love what they do in part because they get paid for it. In the last decade or so, direct deposits have made paying payees by check and cash near obsolete. And why is that? Direct deposits save time for you and your payees:
No more sitting at a desk to write or print payroll checks and then stuff them in discrete envelopes so you save time and money.
No more having your payees make a special trip to pick up a paycheck on payday, which, knowing their luck, is their day off or a holiday.
No more payees having to go to the bank to deposit a check to then wait a few days for the funds to be available.
Allows the payee to have payment allocated to multiple accounts.
No more lost or stolen paychecks.
Today, we wake up and our money is in our bank account on pay day. Direct deposits allow you and your accountant to push a magic button and move money from the business bank account to the payee's bank account.
Now that you've read through this article, you should now feel confident to review direct deposit authorization forms and bank support or be able to explain the process to your manager, or worker responsible for your payroll. We also hope that you are closing this tab and feeling empowered with an understanding of why direct deposit authorization and bank support is important for you and your accountant to verify.
To review what we said at the beginning, you and your account need to be able to verify:
Payee's (or business) name
Payee's (or business) address
Routing number
Account number
To your payee's bank support; which can be any one of the below items:
Personal check or a counter check
Bank provided direct deposit form (accessible online or in a local branch)
Bank account information from monthly statements
Cards with account information on them provided by the bank
Contacting the bank for any supporting documents they are able to provide
I'm pretty sure we've all seen a direct deposit authorization form as part of on-boarding or new hire paperwork.  As someone that entered the work force in the early 2000's, I've only had one job that I received a payroll check for about 6-months before direct deposit was rolled out company wide.  All direct deposit authorization forms ask for the same information: payee name, payee address, bank routing number, payee bank account number and payee signature but they can look different – just like all the forms of bank support.  Below are a few examples of commonly seen payroll provider direct deposit forms that you might run across while running your (fitness) business:  
Latest posts by Eric Killian
(see all)